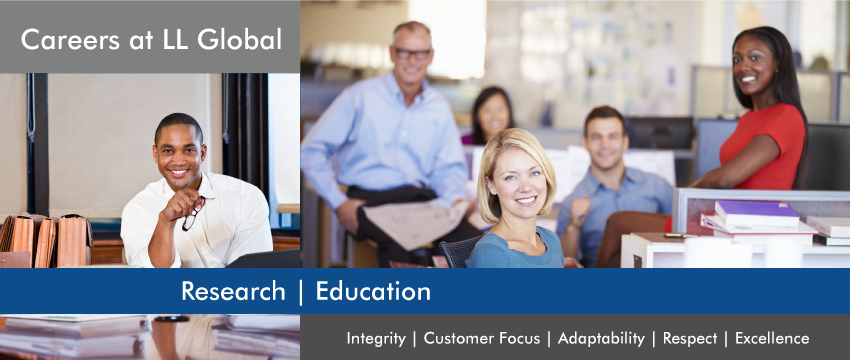 Openings
About Us
LIMRA, LOMA, and our parent organization, LL Global, Inc., are the world's largest association of life insurance and financial services companies, which together represent more than 1,200 members across 64 countries, including most of the world's largest life insurance companies.
Recognized as the trusted source for industry knowledge, LIMRA and LOMA select only the most passionate and skilled professionals. Financial Services companies look to LIMRA and LOMA for their research and training and development needs. As one of our staff members, you will reflect the core values that make us the world's leading industry trade association by delivering the best products and serving our members globally. Here, in a diverse environment, you will have the opportunity to help instill our company culture where we treat one another with respect and act with integrity in all we do. We call it simply — ICARE.
INTEGRITY * CUSTOMER FOCUS * ADAPTABILITY * RESPECT * EXCELLENCE
Below is a list of current job openings at LL Global, Inc. Please click on an opening in the list to view details and apply.
| Title | Department Name | Location |
| --- | --- | --- |
| Associate Director Product Experience | Talent Solutions | Windsor, CT |
| Corporate VP, Marketing | Marketing | Jacksonville, FL |
| Corporate VP, Marketing | Marketing | Concord, NH |
| Corporate VP, Marketing | Marketing | Trenton, NJ |
| Corporate VP, Marketing | Marketing | Philadelphia, PA |
| Corporate VP, Marketing | Marketing | Baltimore, MD |
| Corporate VP, Marketing | Marketing | Columbia, SC |
| Corporate VP, Marketing | Marketing | Raleigh-Durham, NC |
| Corporate VP, Marketing | Marketing | Charlotte, NC |
| Marketing Generalist Coordinator | Marketing | Atlanta, GA |
| Marketing Generalist Coordinator | Marketing | Windsor, CT |